You must fast during Ramadan if you are:
Muslim. Mature. Sane. Free of slavery. Aware of the obligation of fasting.
Can I be excused from fasting? Yes. Sort of.
"You do not have to fast during Ramadan if you are ill, or you are travelling to a destination that is beyond 77 km and you do not intend to stay at a particular location for more than 14 days at that destination. In these circumstances, you may forgo the fasts and make up for them at a later date. If you are travelling, you should still try to fast, provided fasting will not have a negative effect on your health during the trip.
If you are pregnant or nursing a baby you will be excused from fasting during Ramadan. If you fear that fasting will have a negative impact on your health or on your child's health. You will however have to make up for the missed fast on a later date. If you are frail and do not possess the strength to fast or you are diagnosed with a chronic illness that prevents you from fasting, you are completely excused from fasting. You will instead give a payment of 1.6 kg of wheat or 3.2 kg of barley to a poor person or give its value in cash for each fast. No one can fast on your behalf. Underage children should be encouraged to fast but not forced." The First Steps in Practising Islam
What must be in place before you can begin the Ramadan Fast? Your intention.
If you were to abstain from eating, drinking and having sex throughout the day without making the intention to fast, you will not be considered a fasting person.
You are not required to verbally express your intention. Making an intention in your heart is sufficient.
You should make the intention to fast the night before. If however you fail to do so, you have up to midday to make it.
When is the fast undertaken? In the holy month of Ramadan.
Fasting can be done at any time, but the month long fast during Ramadan, is a particular, collective fast undertaken by all practicing Muslims as one of the Five Pillars of their faith. The month of Ramadan takes place in the ninth month of the Islamic calendar. This is the month that the Koran was revealed, and thus it is the holiest of holidays in the Muslim faith. The Islamic calendar is a lunar calendar containing 12 months but only 355 or 356 days. This is why Ramadan moves through all seasons.
The new month begins with the first sighting of the new moon. Days are counted beginning in the evening, again, at the sighting of the first glimpse of the moon. To mark the beginning of Ramadan, most Muslims follow the first sightings in the place where they live, thus, Ramadan begins at slightly different times throughout the world, though always within a day's duration.
When does the fast begin and end in the day? Sun up until sundown.
The day begins with a light meal before dawn known as Suhur, which is followed by prayer, and then the fast begins. The fast is broken in the evening after the sun sets. Traditionally, this is done by eating three dates. Evening prayer follows, and after a time of devotion, the evening meal, or Iftar, is served. This is a social meal, where friends and family eat together, often in the mosque. If you are worried about waking up in time for Suhur and don't have a Musaharati, or dawn waker, there is lots of technology out there to help.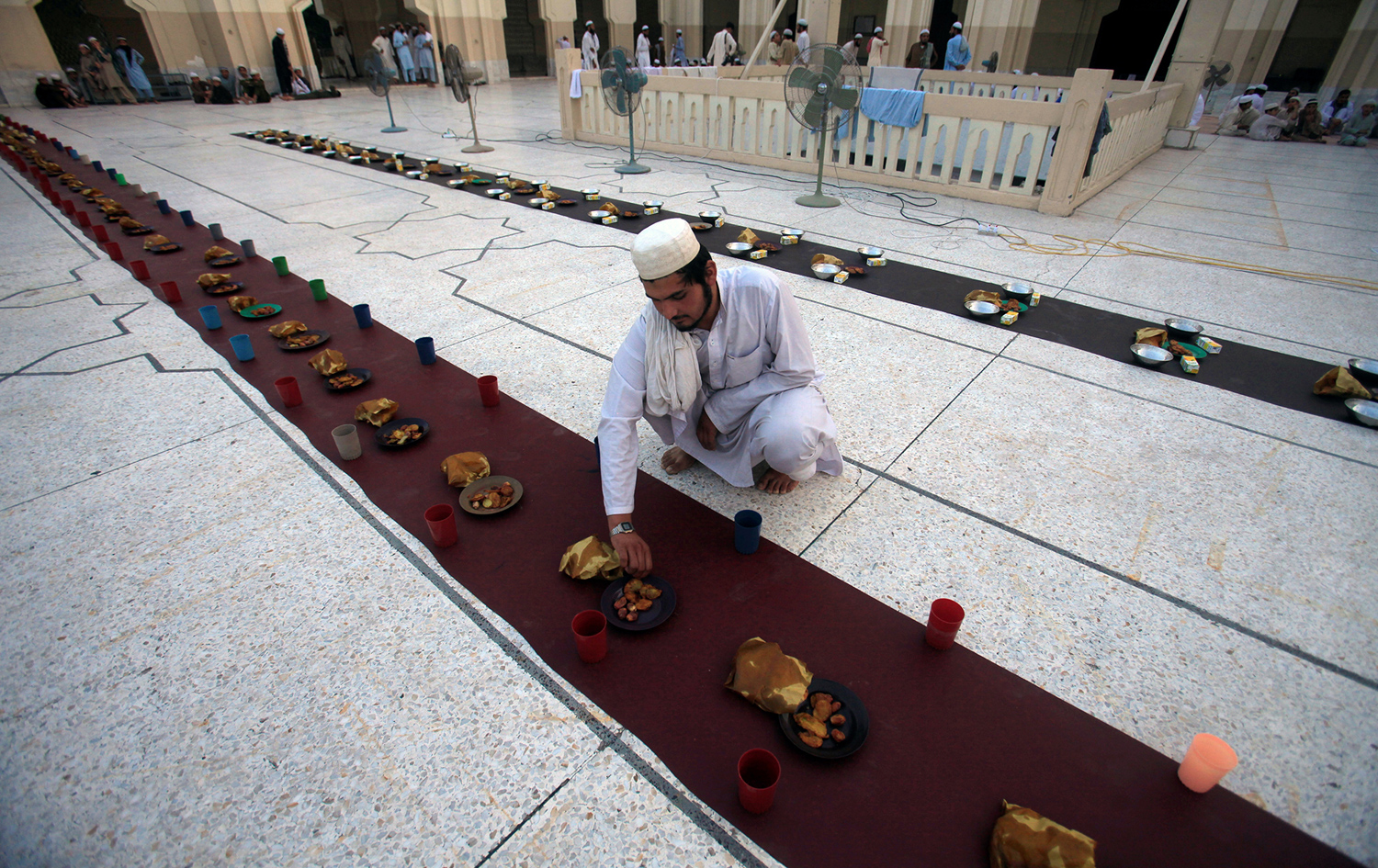 What is the purpose of the fast of Ramadan? Spiritual reflection, renewal and a deepening devotion to the ways of Allah.
The fast of Ramadan is not a punitive event, but rather a time of devotion done within one's community of faith. Reading of the Koran is encouraged, and time spent with modern entertainment is discouraged. Special gatherings and prayers are offered at the mosques, as is extra study, times of contemplation, and lectures. Compassionate acts are nurtured. As Ramadan is a particularly holy time of the year, this is also when many Muslims give their Zakah, a percentage of a person's wealth beyond their basic needs. They also to increase their Shadaqua, extra charitable givings, to those in need.
Why all the celebration? Allah, family and friends all gather together for a party.
As the time of Ramadan is set aside to grow closer to Allah, and closer to your family and faith community, there is much celebration in the evenings when everyone gathers to have the Iftar. At the end of Ramadan, is the Eid al-Fitr festival, a celebration of solidarity and joy.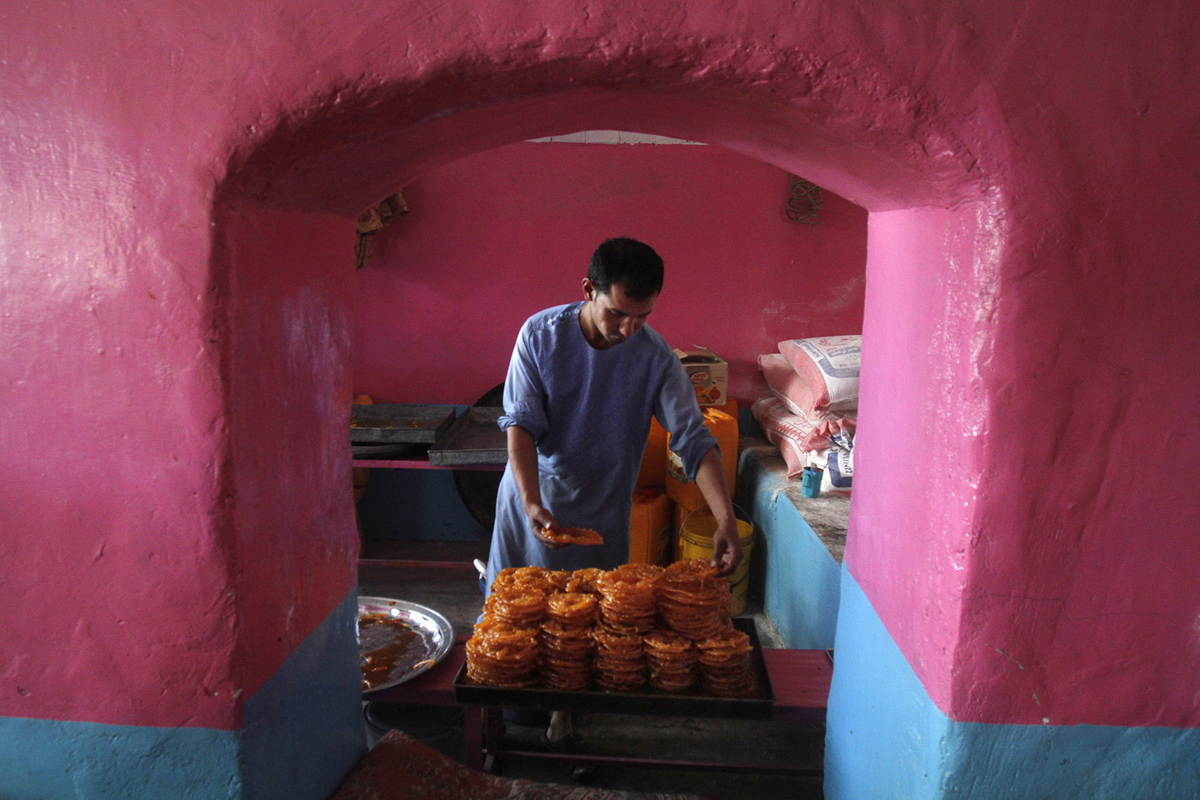 And also, in case you need further clarity. . .
What should you not do when fasting?
to chew on something
to taste something for no reason
to collect saliva in your mouth and then swallow it to quench your thirst
to engage in any type of sexual activity that would lead you to having sex. Minor acts of compassion are allowed though.
What invalidates your fast and results in you having to do a make up fast and give a penalty?
to deliberately break your fast by eating, drinking or having sex, irrespective of whether you ejaculate or not, for no acceptable reason
to swallow medication
to swallow the saliva of your spouse
You will be excused from the penalty if you break your fast due to becoming severely ill or after you menses begins. If you set out on a journey after deliberately breaking your fast, you will not be excused from the penalty. The penalty is:
to fast for 60 consecutive days. If you are unable to do this, you may:
feed 60 people two meals
feed one poor person 2 meals for 60 days
give 60 people 1.6 kg of wheat or its equal value in cash
Give one poor person 1.6 kg of wheat or its equal value in cash every day for 60 consecutive days
What invalidates your fast resulting in you having to only do a make up fast?
to eat something that is not considered food e.g. paper, dough, flour etc.
to be forced to eat, drink or have sex
to take an enema or to insert medicinal drops into your nostrils
to insert an object in you vagina e.g. tampon
to put ear drops in your ear
to accidentally swallow water when rinsing your mouth
to swallow blood mixed with your saliva when the taste of the blood is evident or the volume of blood is more than the saliva
to deliberately throw up a mouthful of vomit, or to unintentionally swallow vomit after vomiting, irrespective of its quantity
to eat or drink deliberately after eating or drinking accidentally think that you broke your fast by eating or drinking accidentally
to have sex intentionally after having it accidentally think that you broke your fast by doing it accidentally
to engage in other forms of sexual activity that result in ejaculation
to smoke
to inhale second hand smoke
to break the fast due to extreme hunger or thirst
to eat something stuck between your teeth that is the size of a chick pea or larger
to break your fast before sunset assuming the sun has already set
What activities will not invalidate your fast at all?
to eat, drink or have sex forgetfully
to have a wet dream
to kiss your spouse without swallowing their saliva
to vomit unintentionally or to vomit less than a mouth full deliberately
to gather saliva in your mouth and swallow it
to take an injection or give a blood test
to apply kohl to your eyes
to apply oil on to your body or hair
to have water enter your ear holes while taking a bath or shower
to clean your ears out with a cotton swab
to swallow something stuck between your teeth this is smaller than a chick pea