Background
Until two years ago, I was only vaguely aware of the Five Pillars of Islam and my knowledge of the Muslim faith was sketchy at best. But at that time, I agreed to take on the mantle of spiritual leader at two local churches in the United Church of Canada near where I live. One of the churches was sponsoring Syrian refugees. Not long after I arrived some of their leaders came to see me, concerned about the welfare of those in their care. Not only were their families struggling with the English language, there was a sense that they were lonely and despondent, despite the best efforts of their sponsors to support them.
We decided to supplement what the government was already doing with a Wednesday morning ESL class, followed by lunch - where our new friends could practice their language skills in a safe community - and an afternoon of exploration into the community to discover both the local culture, and the larger ethos of their adopted country. I found and organized teachers, volunteers and drivers, and within no time at all we had a lively gathering each week in the church. This is how I first came to meet Muslims, up close and personal, for the first time in my life.
The gatherings were a success in every way. But towards the end of the school year, the fast of Ramadan began. We would not be having lunch together, and also, in consideration of the fast, we should not have drinks or food of any kind on display. We complied with these suggestions, but mourned the end of our lively lunches, and watched awkwardly, as our new found Muslim friends grew quieter in the last weeks of June.
When the school season ended, and the long hot days of summer appeared, I hosted open ended gatherings at my home in the country so the children could learn to swim. It was another opportunity for our friends to learn English while the children played soccer and swam, and for all of us to spend time in one another's company.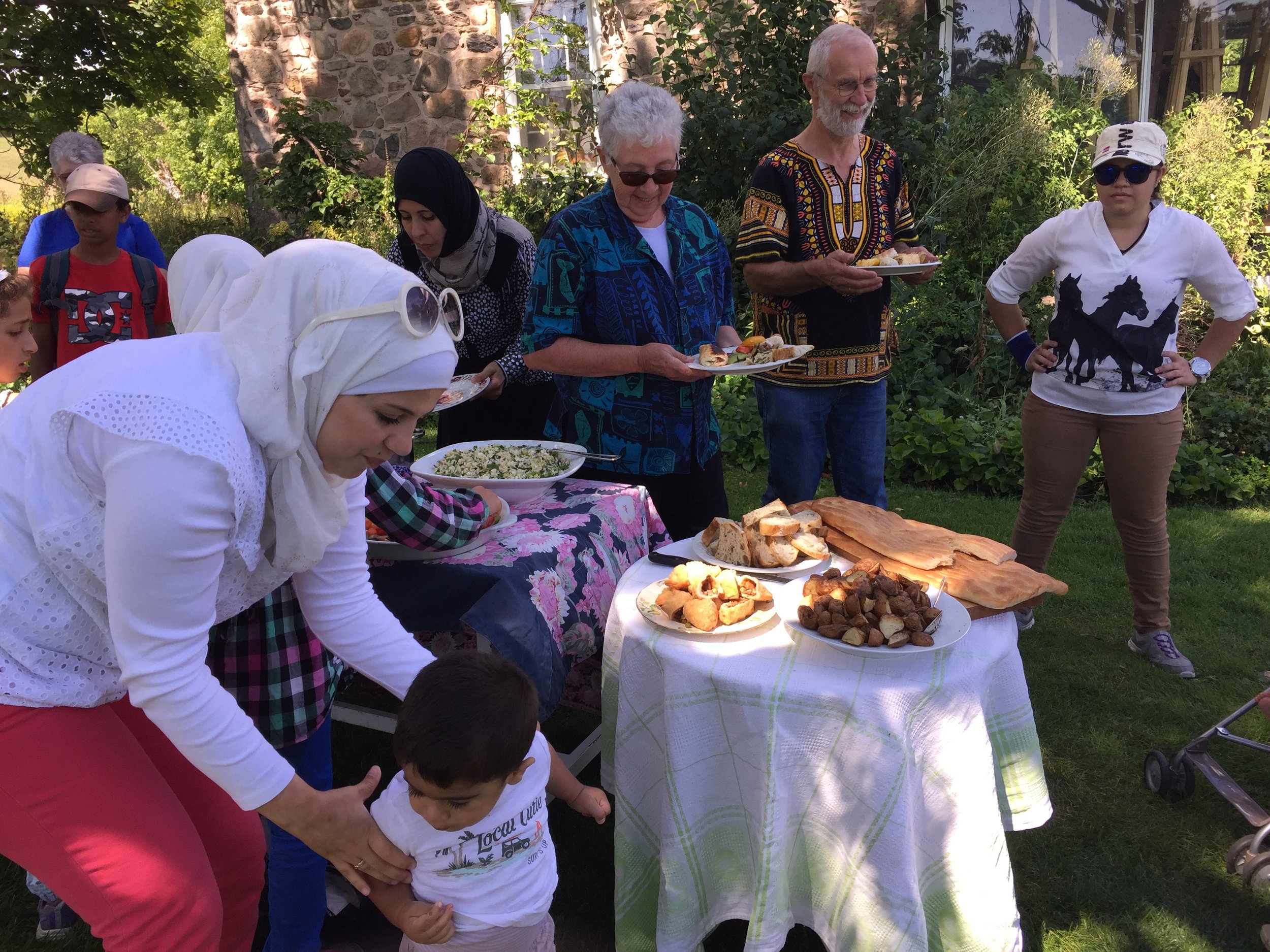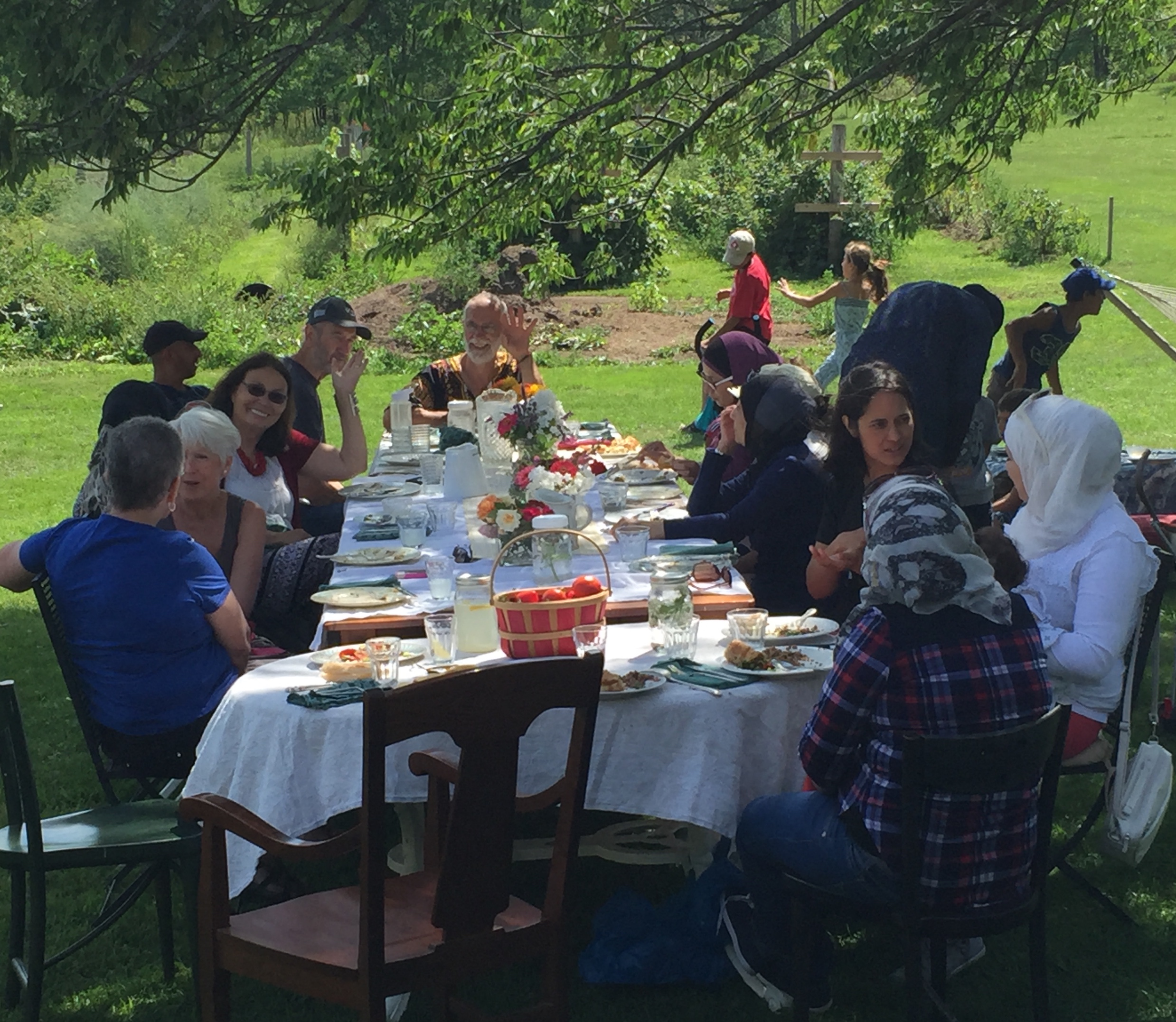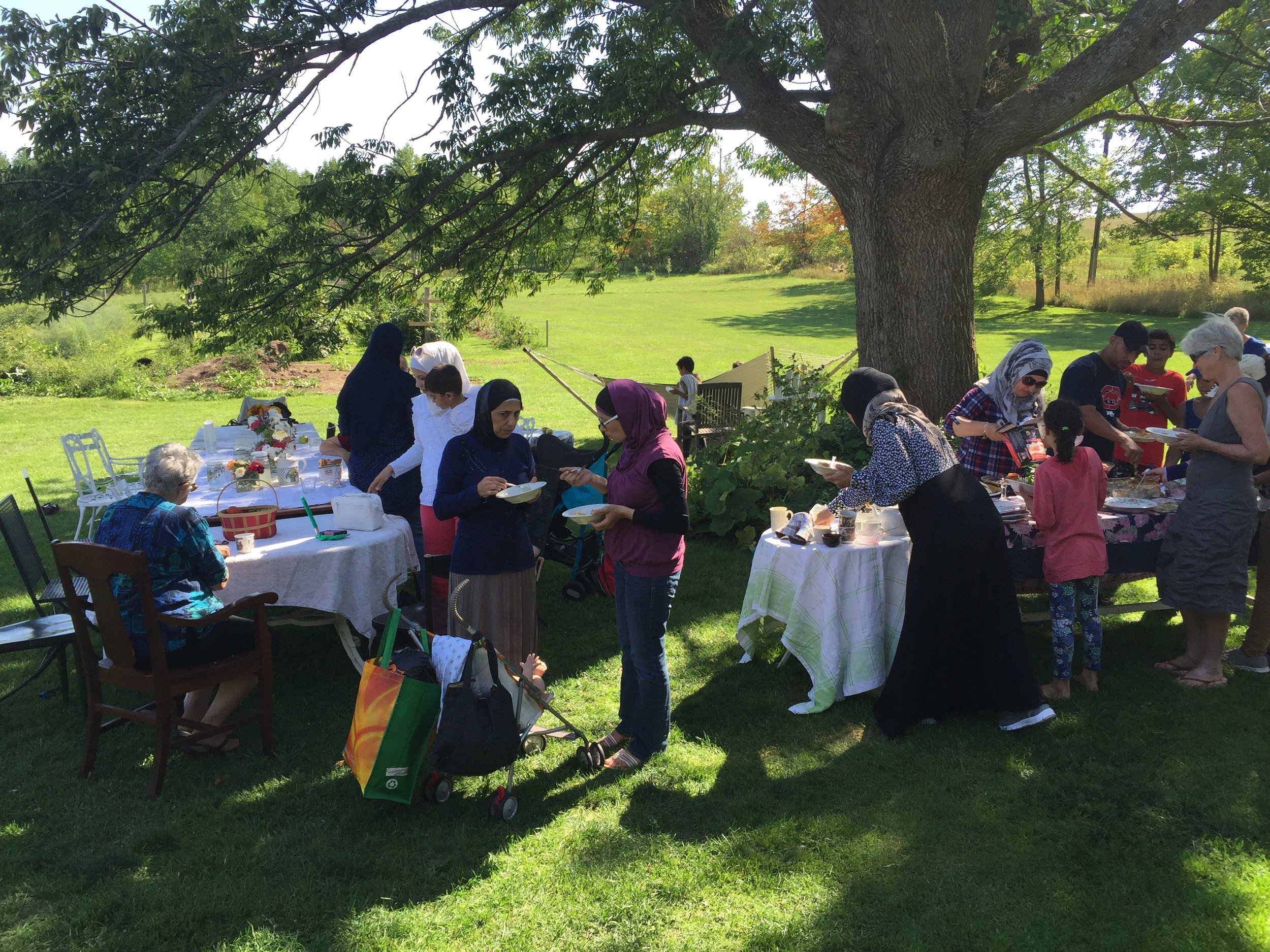 Violence in Quebec, Our Local Response
Then a year ago last February came the bombing of the Mosque in Quebec and the death of six Muslim men while they were at evening prayers. This was a profoundly shocking act to Canadians in general, but to those of us who had been developing a deepening friendship with our Muslim neighbours, it was a personal tragedy. We responded by organizing a Sunday evening vigil in the larger of our two churches.
Our Dinner and Prayer Service at Jamiat-ul-Ansar, Brampton, Ontario
And this is how I met Iman Omar Subedar, a noted Islamic scholar and fellow walker of the way of peace. And how the churches that I serve came to be guests of the Jamiat-ul-Ansar to dine and chat together and began to understand something about The Five Pillars of Islam. Human understanding of another, always begins in the same place, face to face, listening to one another, and sharing our life's experience together. And from these conversations, if our hearts are open to one another, comes knowledge of spiritual devotion.
Our Shared Humanity, and Our Shared Spiritual Practices - A Gathering of Compassionate Dialogue and Further Exploration of The Five Pillars of Islam
In response to our dinners at the mosque, I recently facilitated an evening of conversation between 30 Christians and 30 Muslims in the larger of the two churches where I serve. The design of our evening followed principles from The Compassionate Listening Project, Essential Partners, Fostering Dialogue Across Divides and Fear-Less Conversations. The evening consisted of an hour of structured dialogue where people paired off in twos and answered and shared their response to five simple questions that came from our shared humanity. We then had dinner together, continuing our conversation. Afterwards the Muslim leaders talked briefly on each of the Five Pillars of their faith. Rev. LeeAnn McKenna, a fellow Christian leader and member of our pastoral charge, and myself, responded with similar spiritual practices within our own faith. It was a wonderful evening. Conversation. Communal dining. Spiritual focus.
The Five Pillars of Islam as Seem Through the Eyes of a Christian
Here follows The Five Pillars of Islam as I have come to understand them. This is not meant to be an exhaustive research, for this is not my area of scholarship. It is meant to be a peek inside the spiritual word of another faith tradition, and a reflection of my own faith tradition in light of what I have learned. Beneath all faith traditions, there are deeper movements that may be embraced, and here we seek out our common language: devotion to God, compassion for one another, service to the greater good, peacefulness between all people, harmony in our homes and personal relationships. It is my deepest belief that were all people of religious faith to live life fully within their chosen religion, striving for their tradition's deep wisdom, we would grace this world with endless gift, and uplift the spirits all those who stumble in fearfulness, as surely the angels carry us.
Who was my teacher? Imam Omar Subedar.
Having met Imam Subedar at our original vigil, and travelled down to Jamiat-ul-Ansar on several occasions for dinner and further conversation, I asked Imam Subedar to be my guide in this exploration.
Imam Subedar is a proponent of interfaith dialogue. Like myself, he has been encouraging his own congregation and students to have open conversations with other faith traditions. Imam Subedar is currently the Imam of Jame Makki Masjid Brampton, a member of 'The Canadian Council of Muslim Theologians', the secretary general of 'The Halal Monitoring Authority', a teacher at takemetoumrah.com and an instructor at the Mathābah. A noted Islamic scholar and teacher, Imam Subedar has written a straightforward book, The First Steps in Practising Islam, for those who are unfamiliar with the Five Pillars. I have used this source as my guide, along with other books Imam Subedar has written.
With each of The Five Pillars of Islam, I will explore the context and intent of each practice within the Islamic faith, my own experience of the practice within my Christian faith, and what a practice might look like in modern context in any faith tradition. Underlying all my thinking are these questions:
What does this practice look like in the Islamic tradition?
What is its intent? What is its purpose?
What similar practice is in my own tradition?
Where is the mutuality in the practice between my faith and the one in the practice?
What is the common conversation between the two faiths in terms of the living out of our individual faiths?
Will this practice lead us to a more contemplative, compassionate way of being?
Is there an essence within the practice that can be experienced in common culture?
We begin with the name of Allāh,
the Most Merciful, the Ever Merciful